Features
Fast Super Dryer
< 5% 10% 20% Precise
Turbo Series
10% – 50% Controllable
Auto Dry Box
25% – 55% Controllable
Archival Series
25% – 55% Controllable
---
EUREKA FAST SUPER DRYER Cabinets
| | XDC Series | SDC Series | TD Series | TUS Series |
| --- | --- | --- | --- | --- |
| Range | < 5% RH | < 10% RH | < 20% RH | 10%~50% RH |
| Control Mode | Automatic | Automatic | Automatic | Automatic |
| Recovery Time | Within 30 mins back to < 5% RH | Within 30 mins back to < 10% RH | Within 30 mins back to < 20% RH | Within 2 hours back to < 20% RH |
| Applications | Infinite storage of MSDs at extra-low humidity | Dehumidifying storage of unpacked MSDs during SMT/PCB processing | Stable low humidity storage of hygroscopic components andprecision equipment | Low humidity storage of materials and equipment with controllable wide ranging RH levels |
Eureka's Fast Super Dryer (extra-low humidity electronic dry cabinet) cabinets meets IPC / JEDEC Standard J-STD-033B which indicates MSD (moisture sensitive devices) stored in < 10% RH or < 5% RH to elongate floor life.
Physical Aspects of Fast Super Dry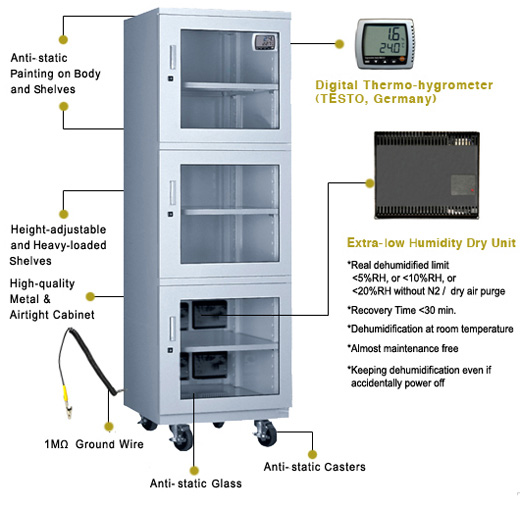 Characteristics
Dual Sensor Design
Sensors, built-in each of the drying system and the hygrometer provides RH monitoring independent of each other.
ESD safe cabinet body
FAST SUPER DRYER has anti-static painting, anti-static glass, anti-static shelves, anti-static stands / casters and a ground wire with 1MΩ.
Dehumidification at Room Temperature
No thermal and moisture re-trapping effects, like from baking ovens.
Feautures
Stable and reliable Humidity Control < 5%RH (XDC series), < 10%RH (SDC series), < 20%RH (TD series) or 10%~50%RH (TUS series)
Fast dehumidification recovery time
No requirement of N2 or Dry air purge
Fully automatic cycle for moisture adsorption, moisture de-adsorption / exhaustion and regeneration of drying materials.
Meet IPC/JEDEC standard J-STD-033B
Dehumidification continues even if accidentally powered off