Definition of an Eureka Auto Dry Box, Dry Cabinet, Electronic Desiccator:
Eureka Dry Tech's Auto Dry Box, Dry Cabinets, and Electronic Desiccators are air-tight automatic dehumidifying storage cabinets which protect objects from moisture & humidity related damages such as mold, mildew, fungus, rust, oxidation, warping, etc. Auto Dry Boxes are suitable for photography equipment, music instruments, moisture sensitive materials in high-tech manufacture/R&D, information records & digital media, precision analytical instruments & equipment, dry food and medication, personal collectibles & museum collections, and so on.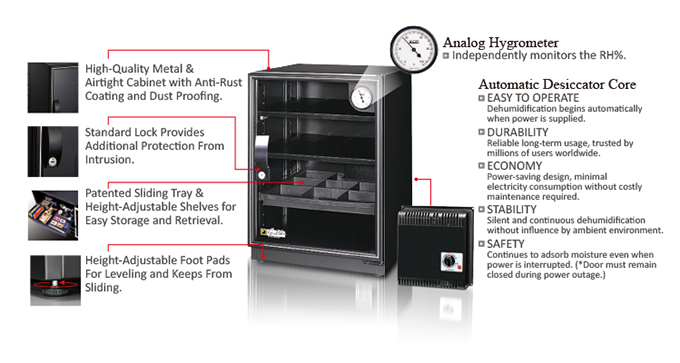 Eureka's Advantage
Fully Automatic– Just plug-in the Auto Dry Box and dehumidification is performed automatically without water tanks to empty, pipes to route or consumables to replace.
Power Saving– Minimal power consumption. Continues to dehumidify and monitor RH levels even during power outage or when power supply is interrupted.
NTP Operation– Silent operations at ambient temperature and pressure without △T effects or pressure variation.
Long Service Life– Dependable operation with long service life and limited core unit failure rate.