Dehumidifier Core Unit Exhaust Stage:
The core unit valve doors automatically seals inside the dry cabinet and open vents outwards to exhaust & expel the moisture absorbed from inside the Dry Box. During this stage, operational indicators will be on.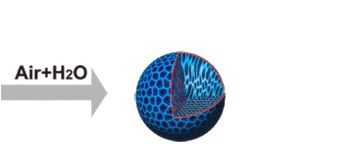 Moisture adsorbed by the multi-porous molecular sieves is expelled by the drying unit and the core unit is automatically regenerated for moisture adsorption. There are no water tanks to empty, desiccant bags & packs to replace, or any other maintenance required by the user. Simply plug in the power cord, set the desired RH level and the Eureka Auto Dry Box will begin its dehumidifying operation cycle. The core unit performs the moisture adsorption process without any power required. Thus is safe and clean for the environment.